Media release
Vero provides generators for the Moteo community in Hastings
14 March 2023
Vero Insurance customer support teams were in Hastings on Thursday connecting in person with customers impacted by Cyclone Gabrielle, and visiting Timi Kara marae to supply much-needed generators.
Vero's Head of Consumer, Jane Brewer says her teams are working at speed and with urgency to resolve customer claims, get repairs underway and money into the hands of customers, but the need in impacted communities extends well beyond their customers. The supply of generators to the marae was a small way her team could extend their support into communities in need.
She says the work of marae's around the country particularly in isolated rural communities provides crucial support to the communities they serve and this is even more evident in times of crisis. At a Hastings community meeting in Puketapu South earlier this week, a marae spokesperson Paea Wilson, spoke of all the support the team from Timi Kara marae are giving to the community and Vero offered support with generators.
Timi Kara marae has a team working within the community locally within Moteo Pa, and also in the Puketapu South area, supplying food and welfare checks daily to families to assess needs including drinking water and usage of hot showers and toilets. It's a way of giving to the community, especially to homes that still have no power, or homes that require rebuild, which is where the use of generators would be beneficial, she says.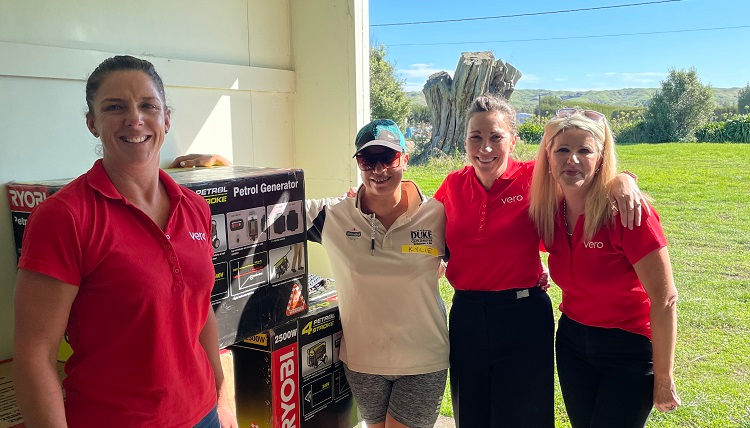 IMAGE: Our Vero people Jane Brewer, Jodene Rendell and Sharon Simonsem (Vero Insurance) pictured with Kylie from Timi Kara marae. The team are on site today providing support for customers and dropped some generators into Kylie as this is something the marae was needing to continue the great work they're doing.
Brewer says she felt this support was a small way her team could contribute to the wellbeing of the community at this really difficult time and a small but impactful way her team could live the company's purpose of protecting what matters.
"Since Cyclone Gabrielle made land fall in February, Vero claims support, assessors and building teams have been in the Hawkes Bay and out throughout the North Island ensuring customers are safe, helping with the clean-up and beginning on the recovery.
"There is significant need and hardship out there and for many it is incredibly challenging and emotional. The most important role we can play is delivering the best possible claims experience to help our customers recover as quickly as possible."
Vero this week announced a $200,000 donation to the Cyclone Gabrielle Appeal Fund which was established to support the resilience and survival of community groups and structures that provide the backbone for isolated communities.
The insurer is proactively reaching out to customers it feels need extra support and is connecting them with additional support through Lifeline Connect a service that links customers with aligned government and community social, financial and psychological support.
For all media enquiries please contact:
The information in this article has been compiled from various sources and is intended to be factual information only. Full details of policy terms and conditions are available from Vero Insurance New Zealand Limited or your financial adviser. For advice on product suitability, please contact your financial adviser. While we take reasonable steps to ensure that the information contained in this article is accurate and up-to-date, it is subject to change without notice. Vero Insurance New Zealand and its related companies does/do not accept any responsibility or liability in connection with your use of or reliance on this article.