Media release
NEW ZEA­LAND'S MOST SATISFIED CAR INSUR­ANCE CUSTOM­ERS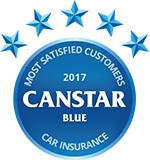 9 February, 2017
Vero has been awarded the 2017 Canstar Blue Award for Most Satisfied Customers in personal motor insurance.
Vero achieved 5-star ratings across almost all aspects of the survey, including quality of service, claims outcome, claims process and value for money.
"It's fantastic that Vero has been recognised by Canstar Blue as having the most satisfied car insurance customers in New Zealand for 2017," said CEO Paul Smeaton.
"We aim to put our customers at the heart of everything we do, and to be rated as the best car insurer by New Zealanders who have actually made a claim in the last three years shows that we're really there for our customers when they need us most."
The Canstar Blue survey is conducted by Ipsos across a representative sample of 2,500 New Zealand consumers, and is based on 1680 responses. This is the first time since the survey began in 2011 that an intermediated insurance company has won the award.
Mr Smeaton thanked Vero's customers for the endorsement of Vero's car insurance, and its brokers, advisers and intermediary business partners for their contribution to the award.
Vero has been working on improvements to technology and simplification in the claims area, and has introduced new innovations like S.M.A.R.T repair shops for low to medium collision damage that will improve turnaround times for customers.
For all media enquiries please contact:
---
Suncorp Group Limited today reported net profit after tax (NPAT) of A$537 million for the six months to 31 December 2016.
The information in this article has been compiled from various sources and is intended to be factual information only. Full details of policy terms and conditions are available from Vero Insurance New Zealand Limited or your financial adviser. For advice on product suitability, please contact your financial adviser. While we take reasonable steps to ensure that the information contained in this article is accurate and up-to-date, it is subject to change without notice. Vero Insurance New Zealand and its related companies does/do not accept any responsibility or liability in connection with your use of or reliance on this article.